Top Corporate Examples of Using Twitter for Public Affairs, Government Relations and CSR
While social media can be useful to help sell products, many corporations have also used Twitter to come out from behind their logos and tell stakeholders about the causes they care about and public policies they support. By promoting their charitable initiatives and providing thought leadership on crucial policy issues, companies reach new audiences and improve their online reputation.
AT&T Public Policy (@ATTPublicPolicy)
The AT&T public policy team created this account to promote their various public affairs campaigns, which include increasing STEM education and promoting safety while driving. Although they don't tweet often, they share compelling content using visuals, which increases their reach.
Eli Lilly and Co. (@LillyPad)
This is the company's official Twitter feed and offers "tweets on public policy, Life at Lilly and corporate responsibility." They take great advantage of live events and hashtags with the thought being that they can take advantage of moments when followers may engage with their content.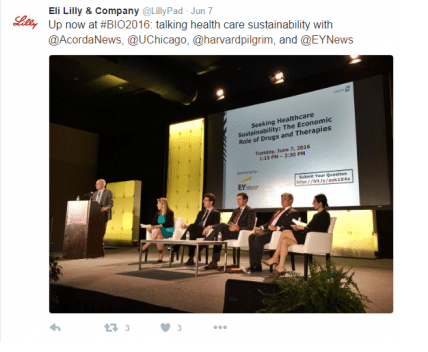 GE Public Affairs (@GEpublicaffairs)
Staffed by GE's public affairs team, they primarily tweet about innovative products, corporate responsibility and government relations-related issues. They successfully leveraged this account to build online support for various policy efforts, including the Trans-Pacific Partnership.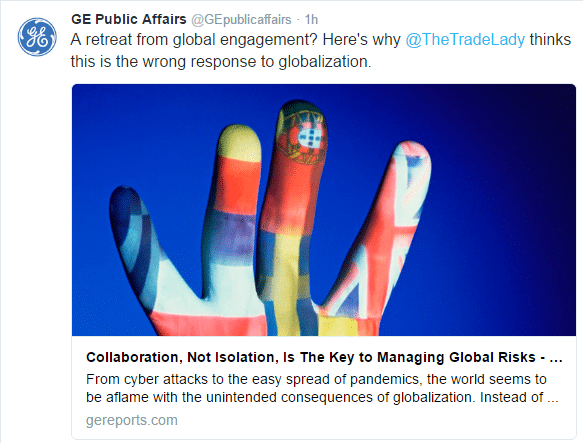 Home Depot GR (@HomeDepotGR)
Home Depot uses this account to foster a relationship between its employees and elected officials by "connecting them to the political process." Home Depot interacts directly with state and federal elected officials and promotes its policy agenda, including job creation as well as veterans' and women's issues.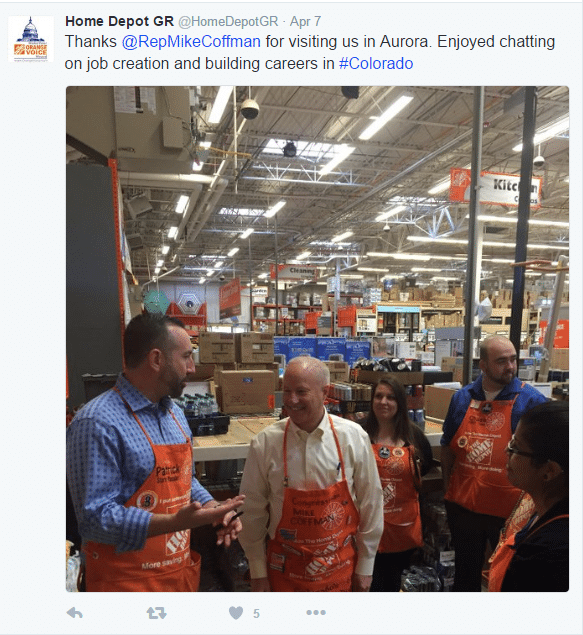 Honda In America (@HondaInAmerica)
Honda has numerous Twitter accounts, but this is the official account for its Washington, D.C., government relations office. The government relations and public affairs teams supply the content. They do a great job of showing off their innovative designs, safety features, manufacturing facilities and U.S. footprint.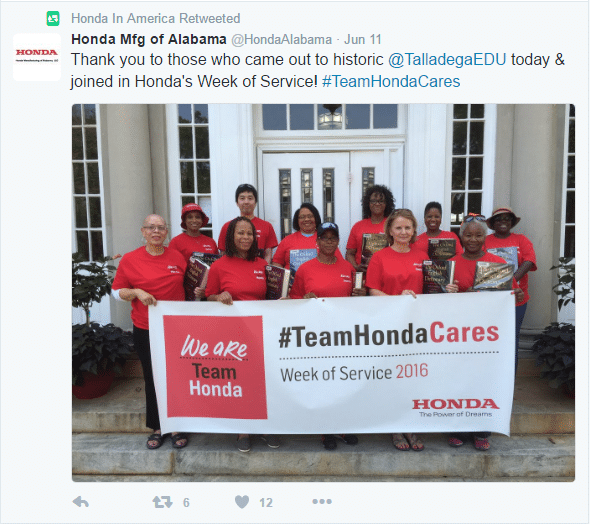 Microsoft DC (@MicrosoftIPC)
Microsoft's government affairs' feed emphasizes the company's significant investment in advanced technologies like the Microsoft Digital Crime Center. Microsoft also uses the account to promote their public policy positions — notably, technology innovation and increased diversity in STEM fields.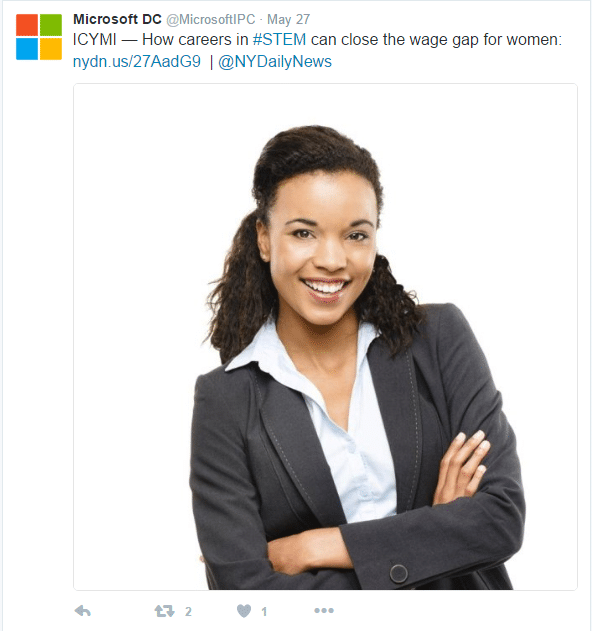 Raytheon (@Raytheon)
Raytheon utilizes digital storytelling and compelling images to highlight their mission in providing government agencies with the necessary tools and technologies they need to keep Americans safe and secure.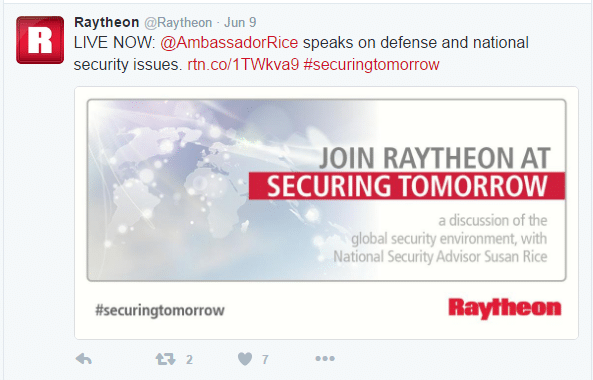 SmithsGroupUSGovRel (@SmithsUSGovRel)
This U.K.-based company spans several highly regulated sectors, including medical, transportation, manufacturing and construction. They have a small D.C. office and use their government relations team to provide the social media content for this recently created feed.

Uber Under the Hood (@UberPubPolicy)
Uber uses this feed both for promotion and to advance the public affairs agenda. They are fighting regulation all over the country and have reached out to their social media followers to help them fight the battle. This account is largely educational and promotional but also mixes in a healthy amount of political education and calls to action.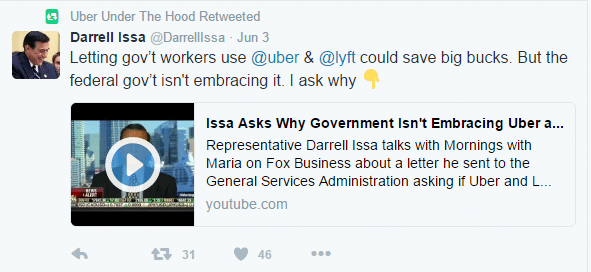 UPS Public Affairs (@UPSPolicy)
This account focuses on "the intersection of politics, government and better business" and "advocate[es] for a policy framework for global growth." UPS uses it to engage directly with policymakers and to inform the public about policy issues surrounding trade, transportation and sustainability.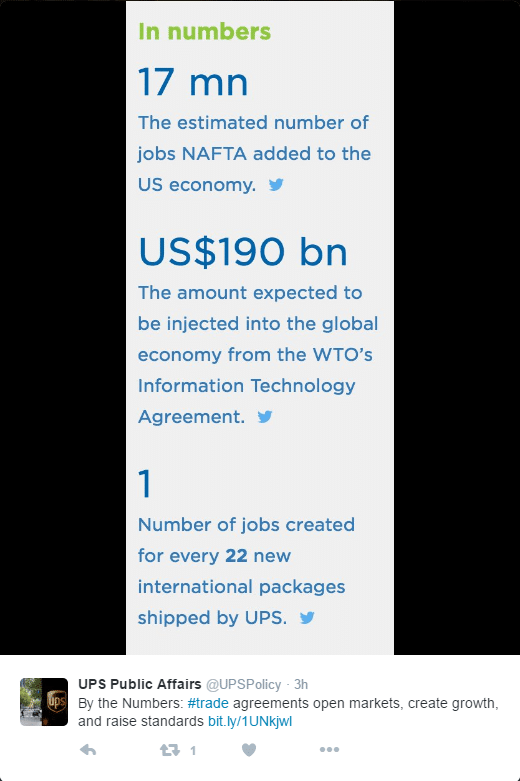 Walmart Action (@WalmartAction)
Walmart has split their social media channels into different segments based on the feed's audience. This particular account focuses on interactions with state and federal elected officials, veterans and education efforts, employee volunteerism and any support they provide to local schools and charities.
Want more tips on using Twitter for Advocacy?
Contact Nick DeSarno at the Public Affairs Council