Council members may use our conference room for their own meetings — for free. Even if you are based in Washington, you may find our heart-of-the-city K Street location more convenient for certain events. Click here to download the room reservation form.
Need a place to hang your hat while visiting D.C.? Members are also invited to use our guest office.
Questions about using our space? Just contact Rayla Everhart.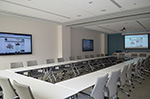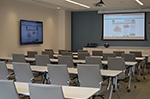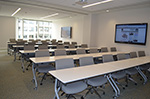 Click here for full-size photos of our conference room.
SIZE AND MAXIMUM CAPACITY OF PUBLIC AFFAIRS COUNCIL MEETING ROOMS
MEETING ROOM
SIZE (IN SQ. FEET)
ROUND TABLE SETUP
BOARD ROOM SETUP
U-SHAPE SETUP
THEATER SETUP
CLASSROOM SETUP**
RECEPTION
Conference Room
A & B (full room)
820
N/A
28 seats
24 seats
36 seats*
35 seats
Contact us to discuss options.
Conference Room
A or B used independently
410
N/A
12 seats
12 seats
~18 seats*
12 seats
Contact us to discuss options.
Webinar Room
170
5 seats
N/A
N/A
N/A
N/A
N/A
NOTES
* We can provide up to 36 chairs for use in the conference room.
** The figures in the chart do not represent a setup with a head table. To configure the room in a classroom setup using a head table, seating would need to be reduced to 29 for the full conference room (i.e., Conference Room A & B). We do not recommend a head table in a classroom setup using Conference Room A or B independently.
Amenities

Projector and up to three screens
Conference phone
Wireless Internet access
Flip chart
Food serving area

Office Hours

The Council's regular office hours are 9 a.m. to 5 p.m. If your meeting will be held outside that timeframe, please let us know in advance and we'll make an effort to accommodate your needs.

Food and Beverage Service

We do not offer food and beverage service, so you are free to use the caterer of your choice. If you are looking for recommendations, we have had positive experiences with the following vendors in the past:

Terms and Conditions

Setup and cleanup must be handled by the reserving party.
Revenue-generating events are not permitted.
Members may use the conference room up to four times per year.
The Council cannot guarantee the safety/security of any outside equipment that is left overnight.

Directions

The Council's office is located at 2121 K St. N.W., Suite 900, Washington, D.C. 20037. The building's entrance is on K Street, between 21st and 22nd streets. For detailed directions, visit pac.org/directions.
We are also within 4 blocks of the following Metro stations: Foggy Bottom (blue and orange lines), Farragut West (blue and orange lines) and Farragut North (red line).
Parking is available in the building and in other nearby garages.

Room Reservations and Other Questions

Please contact Meisha Robinson by phone (202.787.5950) or email for assistance.