Measuring and Communicating the Value of Public Affairs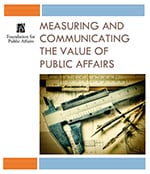 What are the most effective ways to demonstrate the value your public affairs function brings to your organization, and how can you ensure that senior management consistently views public affairs as a business necessity? Drawing upon the experiences of IBM, Cubist Pharmaceuticals, CH2M Hill and Mars, this brief Foundation for Public Affairs report provides guidance on how to meaningfully measure and communicate about public affairs efforts in a way that underscores the function's vital role.
Click HERE to learn more about best practices in public affairs management.
To download, please fill out this form: